Here's how your purchase will be delivered...
1. Our trucking company FedEx Nationaal Trucking - http://www.fedex.com as well as UPS Frieght , SAIA or Yellow Freight. We use all these shipping companies and will select the best rated and fastest carrier that delivers in your area! NOTE: The carrier will call you 24-48 hours prior to deliver your vehicle and arrange a delivery time. If you miss it! They will reschedule with you a better time!
2. When they deliver your new purchase, the driver will lower the item down off the lift gate and place it where you need it.
3. You can use the "Shipping Check-Off Sheet" provided by the delivery driver and mark where there may have been any punctures or damage to the box, just in case. 99% of the time there's nothing but be pro-active and make sure you get the unit in good order.
4. Sign off on the Bill of Lading (BOL) after you view the crate.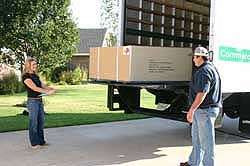 Tracking Numbers

We ship out in the evenings between 4pm and 6pm pacific standard time. You will receive your tracking number via email after your order is shipped. We automatically email you the tracking when it becomes available to our staff from the carriers. Please contact our shipping department with questions. 1-800-985-3168.